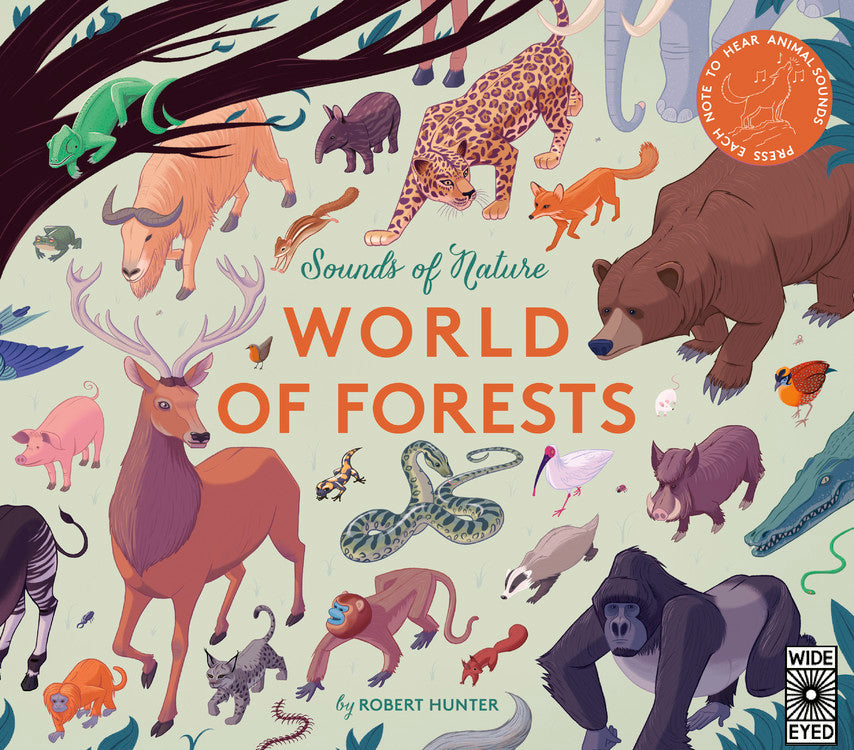 Sounds of Nature: World of Forests
Travel the world with the Sounds of Nature series – press the note in each of the 10 forest habitats to hear vivid recordings of over 60 different animal sounds.
The
Sounds of Nature series
brings the natural world to life with the sounds of real animals recorded in the wild. Captivating edge-to-edge illustrations show animals in action in their habitats around the globe. The animals are numbered in the order they can be heard, with fascinating facts and descriptions of the sounds they make, so you can listen out for each one. A speaker set into the back cover plays a sound clip when you press firmly on the note in each illustration. The battery is already installed, so simply open and explore.
In
World of Forests
,
discover these amazing habitats:
evergreen forest of Germany; redwood forest of California, USA; deciduous forest of England, UK; Amazon rainforest of South America; cloud forest of the Virunga mountains, Africa; desert forest of Socotra Island, Yemen; beech forest in Brussels, Belgium; mangrove forest in the Sundarbans, India; and boreal forest of Alaska, USA.
Listen to these wooded places come to life as you hear the:
Low-pitched growls of the Eurasian lynx (evergreen forest)
Flute-like sound of the varied thrush (redwood forest)
Neighing and snorting of a wild pony (deciduous forest)
Raucous howls and grunts of the red howler monkey (rainforest)
Scratchy sound of a blue-baboon spider moving to find an insect meal (desert forest)
Chewing and snapping sounds of a giant panda having a meal (bamboo forest)
Step under the trees, where 80 percent of the world's land species make their home, to take in the glorious sights and sounds!