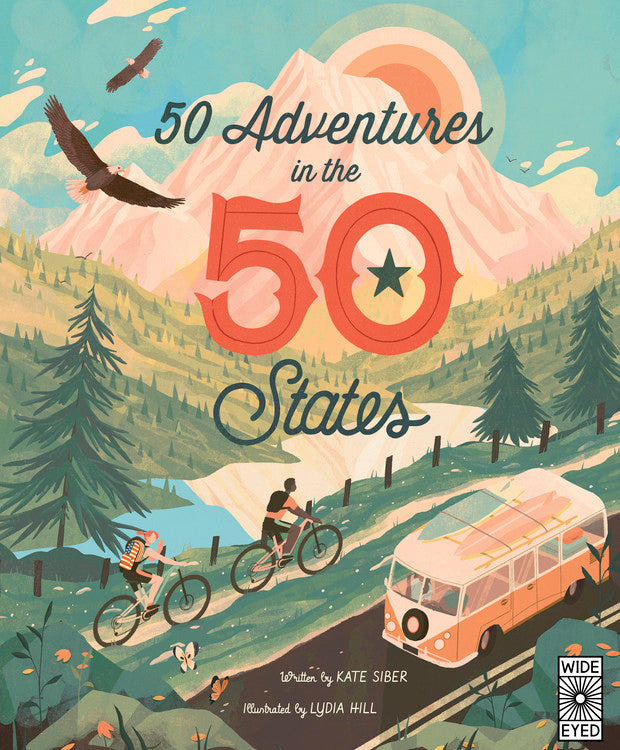 50 Adventures in the 50 States
Be brave and set your spirit free on an exciting journey across the U.S. of A, taking in 50 incredible adventures!

From the award-winning author of National Parks of the USA, Kate Siber
, this stunning book showcases
an amazing adventure activity to try in every single state.
50 Adventures in the 50 States
features gripping outdoors activities,
vividly illustrated and described
alongside
fascinating facts
about the nature and geography of each activity location – the very best the U.S.A. has to offer budding young adventurers!
Each adventure is illustrated with a
beautiful, poster-worthy image
, with
pull-out facts
about how the adventure activity is accomplished and key information about the area's
natural and cultural highlights
.
Activities range from the high-octane, such as
wind surfing
the Gulf Coast in Texas or
canyoneering
in Utah, to the magical and inspiring, such as
soaking in natural hot springs
in Idaho,
stargazing
from a train in Nevada and
witnessing the synchronous firefly displays
in Tennessee. Wonder at the beauty as you:
Walk on an active glacier in Alaska
Climb the highest peak in the Northeast in New Hampshire
Horseback ride through ancient canyons with a Navajo guide in Arizona
Surf the iconic Venice Beach in California
This book is to be pored over and treasured by aspiring adventurers – be they children or adults!

The 50 States series of books for young explorers celebrates the USA and the wider world with key facts and fun activities about the people, history, and natural environments that make each location within them uniquely wonderful. Beautiful illustrations, maps, and infographics bring the places to colorful life.

From Hachette Book Group, for ages 4 and up