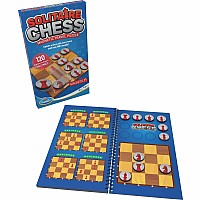 Solitaire Chess Magnetic Travel Puzzle
Can you win a game of Chess…against yourself? Test your skills with 120 Chess challenges in Solitaire Chess Magnetic Travel Game. This gives the classic game of Chess a new challenge: every move you make must capture another piece. You'll start with the beginner challenges and work your way up to the expert-level challenges. The magnetic booklet and pieces mean you can practice your skills wherever you go.
The game is played right within the booklet, and you get 10 magnetic pieces: one King, two Knights, one Queen, two Rooks, two Bishops, and two Pawns. Select a challenge and use the pieces to match the challenge setup on the magnetic board. Using the movement rules as your guide (which are the same as in standard Chess), move the tokens in such a way that one piece always captures another. When there is only one token left on the board, you win! Need some help? The instruction booklet provides solutions.
From Thinkfun, for ages 8 and up