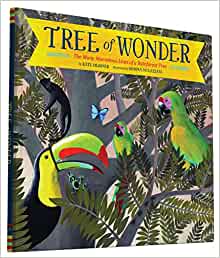 From the acclaimed author of Over and Under the Snow, Kate Messner!

Now in paperback, Tree of Wonder is an exciting introduction to the biodiversity of the rainforest biome.

From two Great Green Macaws to 1,024 Leaf-cutter Ants, readers will delight in counting each animal that makes a home in the heart of the rainforest, where life multiplies again and again in the shade of just one almendro tree.

• An eye-opening way of visualizing numbers
• Features playful, forest-themed word problems
• A lush and fascinating story

Deep in the forest, in the warm-wet green, one almendro tree grows, stretching its branches toward the sun—in and under those branches, all sustained by one tree, thousands of rainforest creatures are living.

Count each one as life multiplies again and again in this book about the rainforest's abundant beauty, and the wonderful multiplicity of life.

• A stunning read for kids who can't get enough of the rainforest and all the animals living in it
• Equal parts educational and beautiful, this book is perfect for parents and grandparents, librarians, and math, literature, and science teachers
• A great gift for kids 5 to 8 years old who love nature, rainforests, animals, and learning more about the world
• Add it to the shelf with books like The Big Book of Bugs by Yuval Zommer, The Animal Book by Lonely Planet Kids, and A Butterfly Is Patient by Dianna Aston.